Our Works
Family Clubs
We believe that family, the smallest yet the most crucial constituent of society, has to be healthy and well-educated to ensure the productivity and strength of the community as a whole. Driven by this understanding, we have launched Family Clubs in collaboration with District Community Education Centers to aid with the skills development of women, men and children of all ages. Operating across a diverse geographical area, our Family Clubs offer free-of-charge vocational and skills training courses as well as socialization opportunities for people with similar interests.

As of the end of 2019, Family Clubs operating out of Migros stores in 27 locations across Turkey provide training courses in 92 highly diverse fields, including confectionery and cooking, embroidery, marbling, ceramic and wood painting, oil painting, pilates, foreign language training, sign language, diction, photography and robot programming.
With members mostly comprised of women, Family Clubs enable women to participate in social life more actively, invest in their own personal development, pursue careers, and become stronger role models for their children. With each passing day, more and more women set up their own businesses thanks to the knowledge, skills and Ministry of Education-approved certification they obtain upon completing Family Clubs courses.
Family Clubs also aim to contribute to the development of children with courses such as painting, music and chess. We also help develop their knowledge and imagination with workshop on coding, sustainability and zero waste. In 2019, 19 book-reading events at 14 Family Clubs and eight event organizations in four cities enabled us to reach over 2,000 children and their parents directly. Over the course of the last two years, Family Clubs provided 250,000 trainings.
Migros Women's Academy
As a result of the joining forces of Migros Retail Academy, which is a school in the retail sector, with Family Clubs and Better Future Ambassadors, Migros Women's Academy was launched at the beginning of 2021. This training platform was established to help women develop themselves and acquire new skills through the training they receive in different subjects and aims to support its members in many areas such as personal development training, hobby acquisition and vocational training.

In addition, it is planned to support women who are in the process of starting their business to participate in working life and their marketing of the products they produce. Access to the platform, where training and new content will be added at regular intervals, will be easy through MigrosTV. As Migros, we aim to reach 1 million women in 3 years through this academy.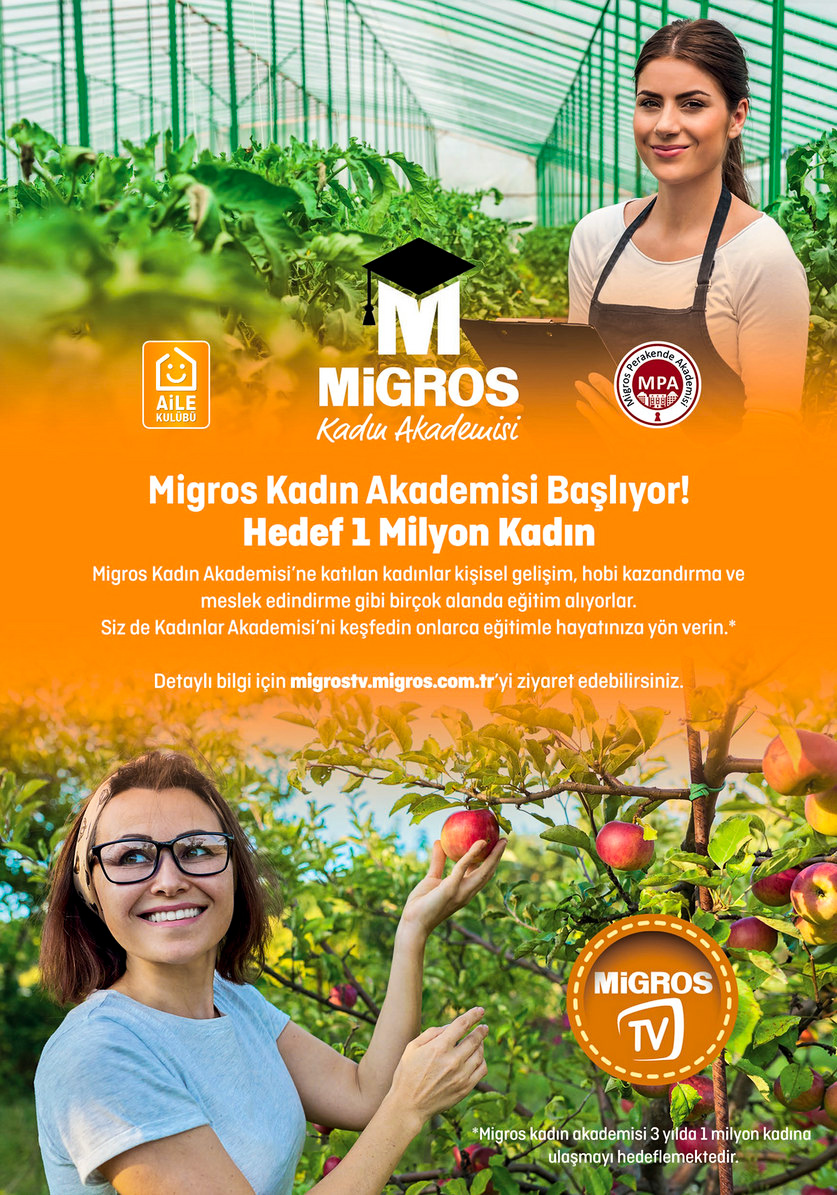 Wellbeing Journey Program
With our "Wellbeing Journey" program, we offer suggestions as balanced nutrition, increasing daily physical activity, adequate water consumption, personal information about oral and dental health, interactive advice, and discounted products to our customers. At the "Wellbeing Journey" section created on the Migros Money application, we compare the food purchases of our Money Card member customers with the recommended consumption, and encourage positive behavior change via messages and discounted product recommendations, based on the food groups that they need for a balanced diet.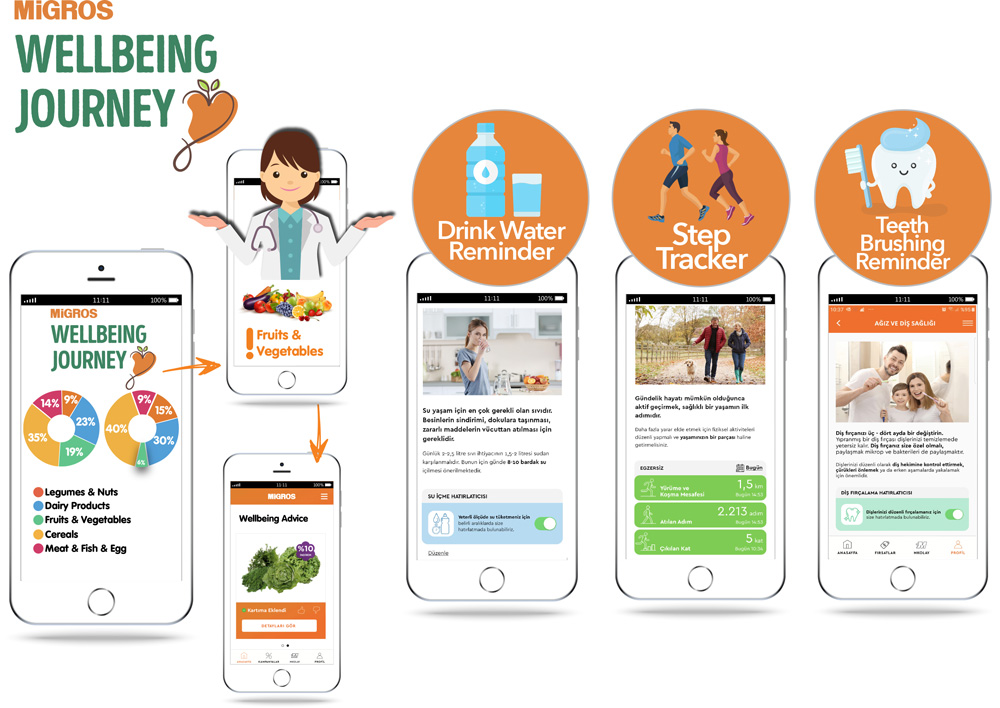 In 2020, in collaboration with Anadolu Health Center, we developed our program for our vegan and vegetarianfed customers. In addition, we have started to present information messages included in the application through videos prepared by expert dietitians. Since 2018, that is, since the day it started, our program has reached 2.3 million customers.
In order to measure the lasting impact of the program, we implemented the Balanced Nutrition Index (BNI) with KMPG Turkey in 2020. With this index, we calculate the average annual distribution of our customers' food shopping based on main food groups and the deviation of this data according to the recommended consumption rates. Our customers who participated in the program had a DBE score of 70.5 just before the program started, and as of December 2020, this number has increased to 77.1.
Our Wellbeing Journey Program, which has been awarded seven awards in the international arena, was presented as an exemplary project at the world retail summits in Lisbon, Berlin, London, Tokyo, Warsaw and Monaco, and was well-received as a pioneering retail practice among new generation retail applications. In 2020, the program was adapted to Latin American retail companies and negotiations with Japanese companies began.
Growing Healthy with Migros
We give special place to children in our community health awareness work. Since 2016, we have been carrying out our project "Growing Healthy with Migros" in order to spread and further strengthen the awareness in children about healthy and good living. Store tours for children at 396 Migros stores in 70 provinces of Turkey so far are carried out by our volunteer store managers with the invitation to children and their families to Migros stores.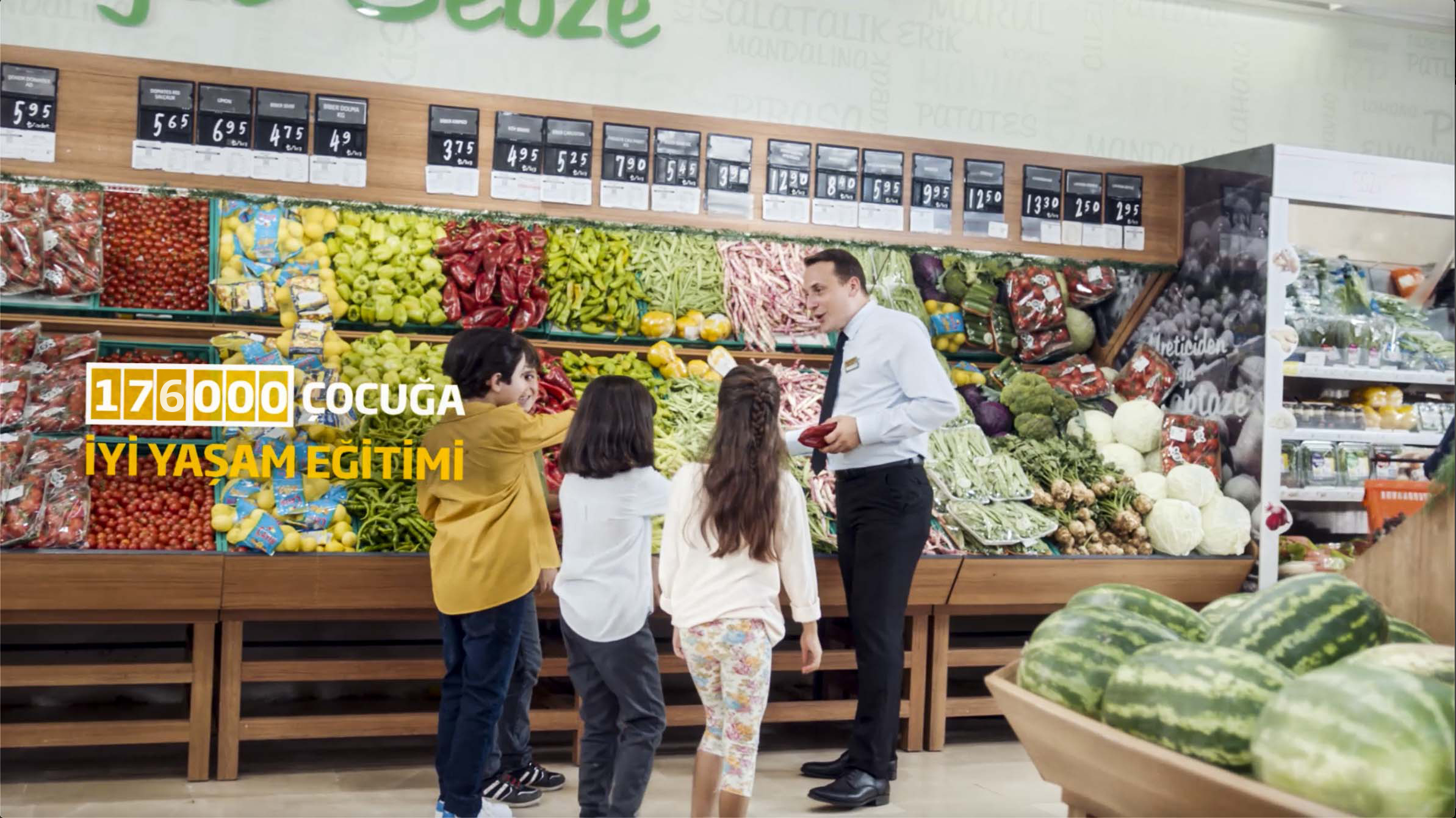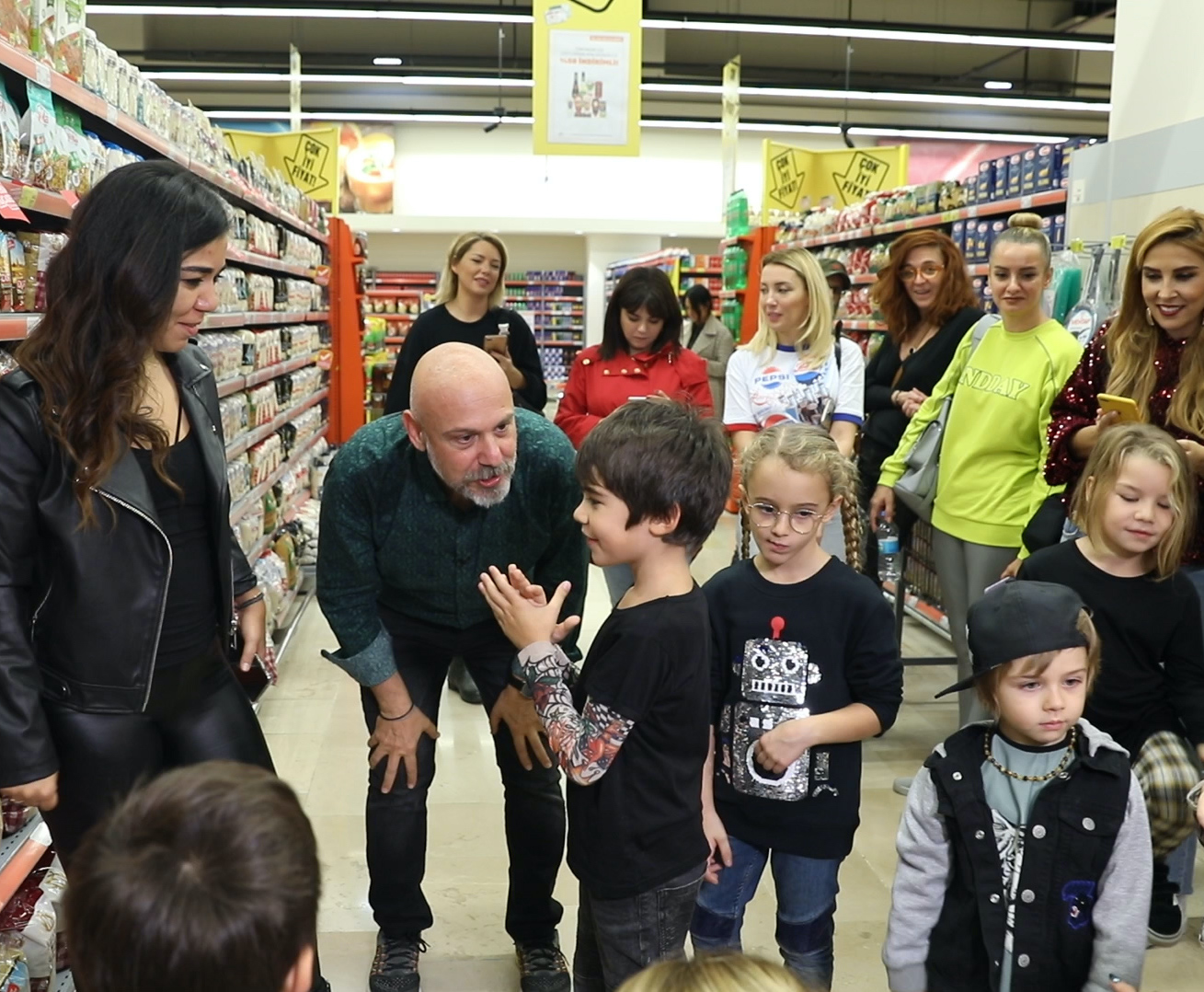 Children who participate in thehealthy life and conscious shopping education gain a lot of information on topics such as the benefits of fruits and vegetables, the control processes gone through until products reach shelves, Good Agricultural Practices, and tips on reading labels. Children are also told about the benefits of waste collection bins in stores and their contribution to a better future by recycling their waste.The "Migros Healthy Growth Guide" prepared by the Food Safety Association is given to children as a gift during the tours where the importance of balanced nutrition and exercise is emphasized. Within the scope of the "Growing Healthy with Migros" project, education and activities for more than 176,000 children have been organized so far. Decommissioned due to the pandemic in 2020, it was decided that the project would be moved to digital media in addition to store tours. The education, which was turned into an animated film, was released on National Sovereignty and Children's Day in April 23, 2021. You can watch the education video on our Migros TV channel.
Fresh Leftovers to Our Four-Legged Friends
Since 2014, we have been running the "Fresh Leftovers to Our Four-Legged Friends" project for the feeding of forest and street animals. In our stores, the Expiry Date is approaching; however, food products that remain convenient for consumption are donated to feed stray animals and forest animals through HAYTAP (Turkish Animal Rights Federation). Within the scope of the project, we have contributed to the nutrition of forest animals and stray animals with a total of 3,016 tons of food aid and 1,120 tons in 2020.
We placed specially-designed animal food containers in front of our 300 Migros and Macrocenter stores in 25 provinces so that stray animals living around the stores can be fed in a clean and healthy environment. In our stores located in regions where stray animals are abundant, we allocate food containers to our store in line with the demands. These stores take care to regularly refresh cat and dog food in food areas.
Accessible Migros
Our "Accessible Migros" project started in 2017 with the aim of providing privileged services to our disabled and elderly customers. As part of the project, we designed the mobile application Migros Sanal Market (our e-commerce channel) to be fully compatible with screen reader programs used by the visually impaired.
In addition, as of 2020, we have a total of 346 Migros and Macrocenter stores in 54 provinces that have been converted in accordance with the concept of "Accessible Stores". Our accessible stores have:
Accompanying service during shopping upon request,
At least one employee who knows sign language and can be distinguished by the badges on their collar,
Shelf ranges according to the transitions of wheelchairs,
Ramps and railings at entrances,
Wheelchairs available for elderly customers.
Click for the Accessible Stores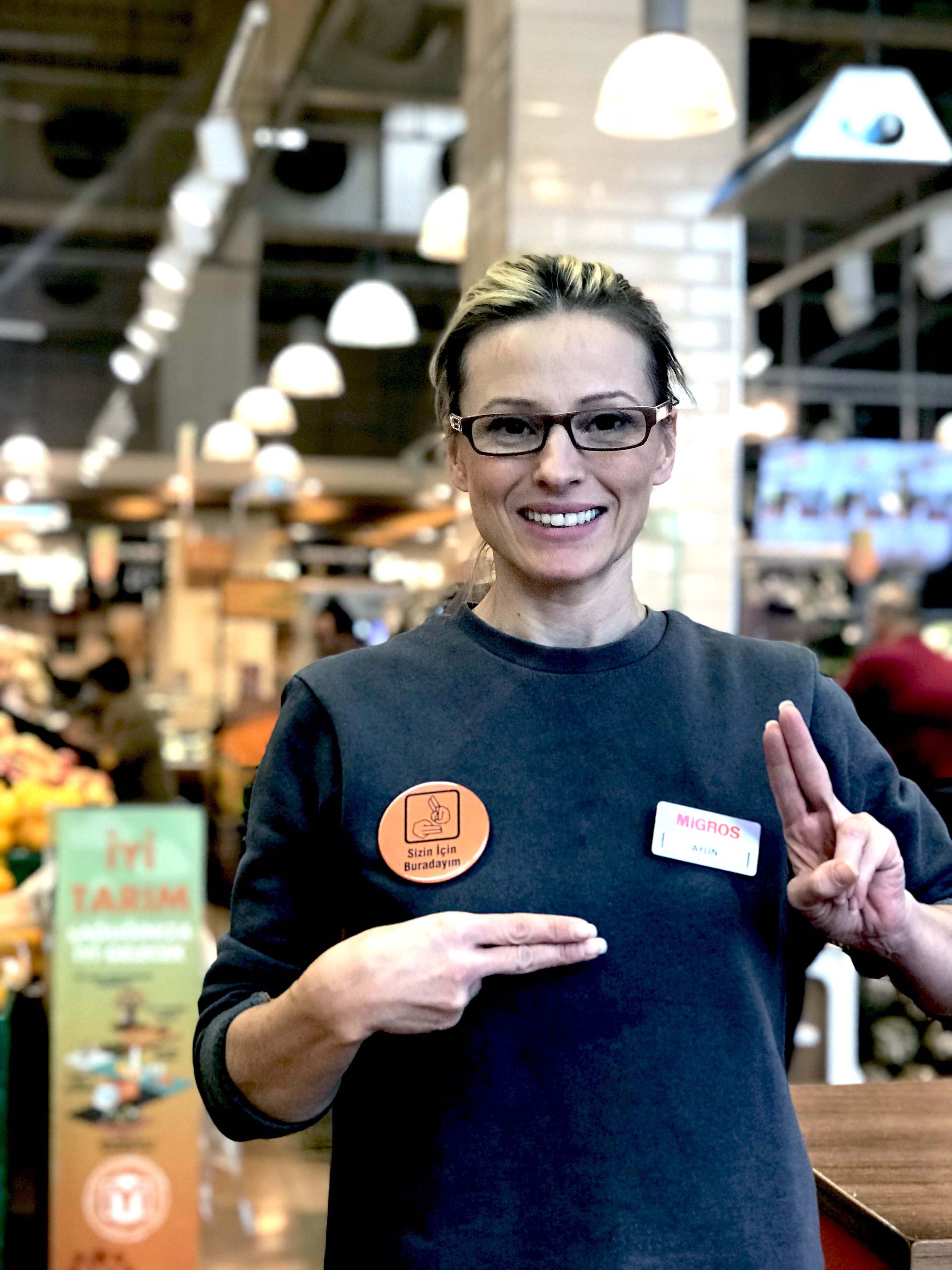 Respecting Food Project
We deliver food products that do not satisfy the sales standards in visual terms, but which remain nutritious and are convenient, to those in need with "Whole Surplus (Fazla Gıda)", a web-based donation platform. Thanks to this new generation practice, which we started to use for the first time in Turkey in 2017, the food products that can be donated match requests of the individuals in need. In this way, the donated foods are delivered to the right addresses and in appropriate quantities, and all of them are valued. With the donation of 1,216 tons in 2020, we have been supporting the delivery of more than 6.8 million meals which is equivalent to 3.2 tons of food to those in need since the beginning of the project. You can watch the video of our project on our YouTube channel.
Our Collaborations Providing Social Contribution
We aim to strengthen our ties with society and improve development and betterment of society as well as awareness on better living through our social responsibility projects that we implement in accordance with our understanding of social contribution. Within the scope of these projects, we focus on education, sports, health, profession acquisition and talent development with our stakeholders.
In collaboration with the Spinal Cord Paralytics Association of Turkey (TOFD) in 2020, we contributed to the plastic cap collection project and donated 2 wheelchairs.
Every year, on April 23 National Sovereignty and Children's Day, we place donation boxes for the Educational Volunteers Foundation of Turkey (TEGV) in our stores. During the same period, we sell toys, children's books and stationery products at a 50% discount in our stores. Our customers who buy these products and want to donate can deliver the products to children in need through the foundation.
In collaboration with our customers, we also support the Books for All Foundation in order to instill the habit of reading in children. Our customers can use the 'Books for All Foundation' book collection boxes to donate books they bring or purchase at a discount. So far, 58,588 books were collected and sent to schools across Turkey.
We are conducting our 'Clothing Donation Campaign' project, which has been ongoing for 10 years and now traditionalized, in collaboration with Ariel (P&G) and the Community Volunteers Foundation (TOG). In 2020, we collected 45,000 pieces of clothing in our stores. Since the beginning of our project, clothes have been delivered to 440,000 people. 35,000 pieces of clothing this year were distributed to children in Izmir during the Izmir earthquake.
We supported with a portion of the revenue of Ruffles products purchased from our stores to the 'Girls on the Field Platform' whose purpose is to organize football school for girls, tournaments for high school students and adult women, football and social development camps for mixed groups of girls and boys, corporate trainings for schools and companies.
Within the scope of Finish's 'Pledge to Save Water' campaign, participants won a Finish Quantum discount valid in our stores, equal to the water saved according to the last bill they uploaded. With this campaign, 1,323 people loaded their bills once and 505 people loaded their bills twice. In total, 1,402,000 liters of water were saved. In another campaign, we provided a portion of the revenue of Finish Powerball 0% products sold in our stores to fill 50 hectares of Lake Kuyucuk with water and return 110 bird species to their nests. Previously, within the scope of the Water Ambassadors Project, we provided training to 8,000 children on the importance of water. In 2020, we could not carry out these trainings due to the Covid-19 pandemic.
We donate a portion of the revenue from the Procter&Gamble (P&G) products that we sell in our stores to the Turkey Special Olympics Committee within the scope of our 'Little Athletes' project. With this project, which we had to hold on as of 2020, we ensure that children aged 2-7 years who need special education socialize with their peers and increase their coordination skills. Thanks to the contribution of our customers, we have introduced 6,238 special young people and children to sports so far.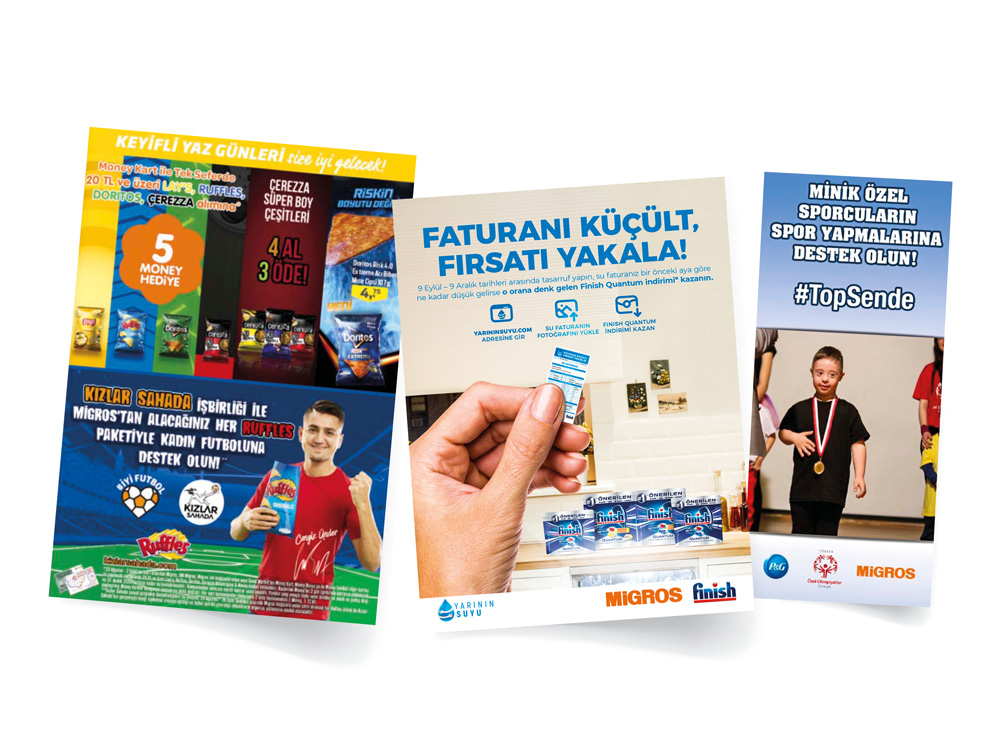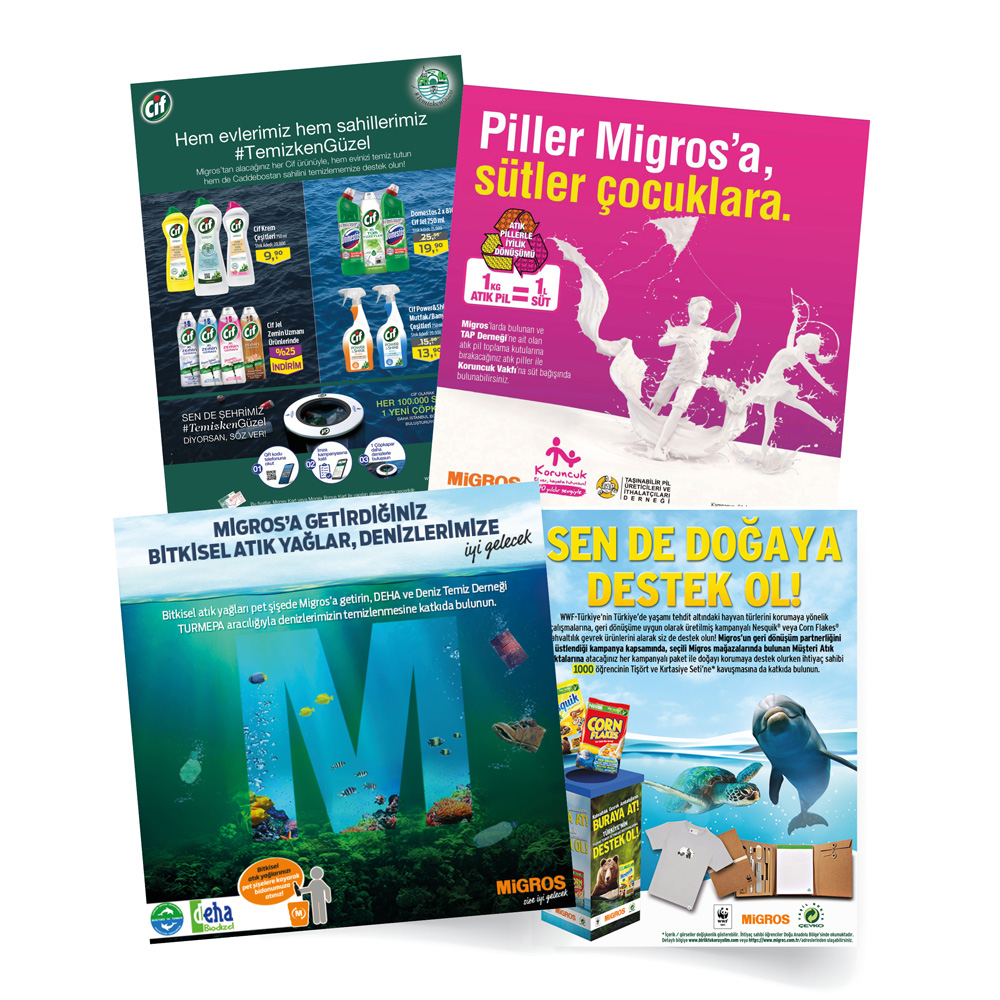 Thanks to the vegetable waste oils collected, we contributed to the cleaning of the seas with the TURMEPA Marine Environment Protection Association. With the donations made to the DENİZTEMİZ 3 Boat within the scope of the Waste Vegetable Oil Collection Project carried out under our leadership, 180,000 liters of wastewater was collected from Selimiye Bay in the Hisarönü Gulf in 2020. Thus, 1.4 million liters of sea water kept clean.
When the waste batteries, which are brought to our stores as part of the project "Batteries to Migros & Milk to Kids" that was launched in 2019, are delivered to TAP, one liter of UHT wholefat milk of the Migros brand is donated to the Koruncuk Foundation (Turkish Foundation for Children in Need of Protection) in return for each waste battery of 1 kg. In 2020, we delivered the waste batteries we collected from our customers to the Portable Battery Manufacturers and Importers Association (TAP), which is authorized by the Ministry of Environment and Urbanization, and thus ensured the donation of 5,676 liters of milk.
Since 2018, through the project we have been implementing in cooperation with WWF-Turkey (World Wide Fund for Nature) and Nestlé, we have dedicated a portion of the income generated from cereal sales in our stores to supporting WWF in monitoring and protecting sea turtles in the Çukurova Delta and dolphins in the Dilek Peninsula. Our customers have also contributed to recycling, in cooperation with ÇEVKO, by throwing campaign packages they bought into the 'Customer Waste Points' in our stores. With this project, 4 tons of packaging were recycled, while 1,000 stationery sets, and WWF T-shirts were donated to the Van Provincial Directorate of National Education.
In 2020, through the 'Beautiful when Clean' Project, which we have been implementing in cooperation with Cif, we cleaned the Caddebostan Coast by dedicating a portion of the income we generated from the sale of Cif products. Also, with the petition we initiated, we brought 1 garbage catcher to the Bosporus for every 100,000 promises.